Quick Facts
Population: 60,210
Growth Since 2000: + 43.4%
Mean Home Price: $256,875
Travel & Commute
Aspen: 120 miles
Denver: 240 miles
Colorado Springs: 300 miles
Airport: Grand Junction Regional
Major Highways: I-70, US-50, US-70
Homes for sale in Grand Junction
What You'll Love About Grand Junction
The Amenities
Shopping, dining, entertainment, libraries, parks, trails…Grand Junction truly has something for everyone!
The Employment
Grand Junction is home to several top companies and has a very low unemployment rate of just 7.4%.
Excellent Weather
Here, the summers are hot and mostly clear. During the winter, it can get chilly and cloudy, but dry year round!
Grand Junction's Attractions

Parks & Rec
Grand Junction is a place to get outside, explore, and truly escape. The Colorado National Monument offers breathtaking vistas from mesas overlooking the city, as well as some of the finest hiking, biking, and rock climbing in Colorado. The area is a major mountain biking destination, but outdoor adventure doesn't end there – hiking, rafting, paddling, fishing, hunting, camping, even downhill skiing at nearby Powderhorn Resort… it's all here.

Employment
Thanks to a growing number of visitors to the area, the economy of Grand Junction is based largely in tourism. However, other major employers include City Market, St. Mary's Hospital, the State of Colorado, Halliburton, and the VA Medical Center.

Local Attractions
Head to Downtown Grand Junction to discover a world of entertainment and attractions! Catch a show at the Avalon Theatre. Step back through time at the Museum of the West. Enjoy live music, concerts, and events any time of the day or night. Head to Suplizio Field to watch the Grand Junction Rockies at a minor league baseball game. Even enjoy live music festivals at Country Jam Ranch, a permanent festival site for live music.

Education
Grand Junction is served by Mesa Valley School District No. 51. In addition to numerous elementary and middle schools, it includes five high schools. Also in Grand Junction is the four-year public liberal arts university, Colorado Mesa University.

Shopping & Dining
Looking for local shops or restaurants? Head downtown! Downtown Grand Junction is home to over 100 independent businesses and restaurants. Want big-box retailers? Find everything you need at Mesa Mall, the largest indoor mall in Western Colorado.

Community Events
Get involved in the community and excitement of Grand Junction! Join your neighbors for outstanding festivals and events live music and theatre productions, farmers markets, local arts shows, guided outdoor excursions, and so much more.
Quick Facts
Population (2015): 12,795
Population Growth Since 2010: +0.9%
Elevation: 4,514 ft.
Zip Code: 81521
County: Mesa County
Travel & Commute
Grand Junction: 20 min.
Powderhorn Resort: 1 hr.
Grand Junction Regional Airport: 20 min.
Major Highways: I-70, US-50, CO-34070, US-50, CO-340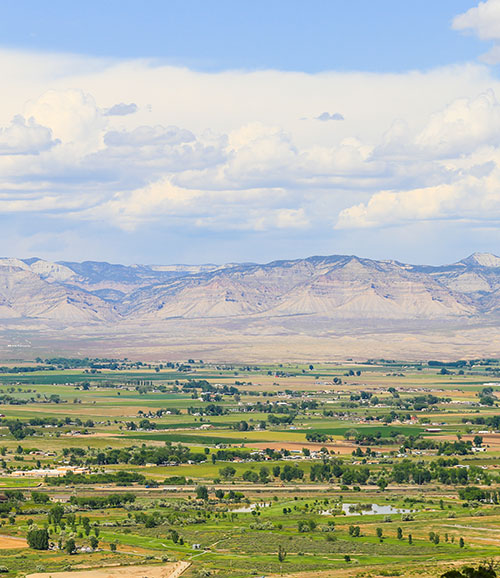 Reasons Fruita is for you
Great Weather
Fruita has plenty of sunshine, mild winters, and easy access to the great outdoors.
Outdoor Adventures
Love hiking, biking, rock climbing, whitewater rafting, or golfing? You'll love Fruita!
Ample Events
There's always something happening in Fruita, from music festivals to one-time events.

Parks & Recreation
Take part in programs with your neighbors, breathe in the fresh air, or venture to the nearby Colorado National Monument for endless outdoor experiences.

Local Attractions
"Mike the Headless Chicken" is a local celebrity in Fruita. In 1945, this chicken lived for 18 months without its head and earned world-wide fame thanks to national newspapers.

Shopping & Dining
Shops and restaurants are abundant in Fruita. Residents have their choice of fast food favorites, cafes and coffee shops, breweries, and local gems, many of which are located in the downtown area.

Festivals & Events
In addition to the Mike the Headless Chicken Festival, Fruita hosts an annual Easter Egg Scramble, 3rd of July Fireworks, Thursday Night Concerts series, Bike Rodeo, Dog Daze, Truck-n-Treat, and more.
Quick Facts
Population (2010): 2,692
Population Growth Since 2000: +4.4%
Elevation: 4,728 ft.
Zip Code: 81526
County: Mesa County
Travel & Commute
Grand Junction: 20 min.
Powderhorn Resort: 40 min.
Grand Junction Regional Airport: 15 min.
Major Highways: I-70, US-6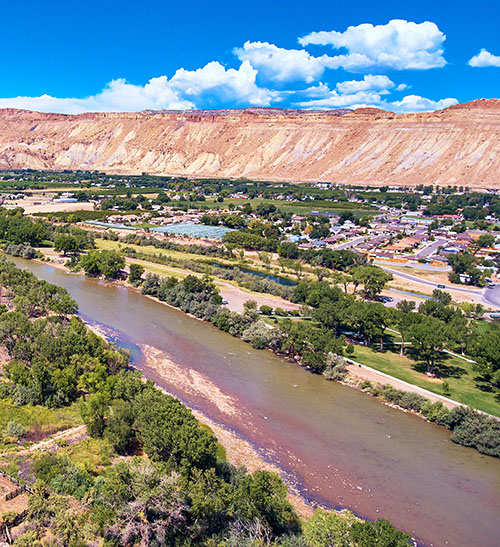 Homes for sale in Palisade
What Palisade has in store for you
Great Weather
We're lucky to have mild winters, nearly 360 days of sunshine, and plenty of places to spend time outdoors.
Tasty Wines
This area is known as Colorado Wine Country! You'll love living close to many of the state's best wineries.
Close to Skiing
Stay-cation opportunities are endless in Palisade, especially since we're so close to the Powderhorn ski resort.
Quick Facts
Population (2010): 23,465
Zip Code: 81501 
County: Mesa County
Travel & Commute
Powderhorn Resort: 50 min. Grand Junction Regional Airport: 10 min. Major Highways: US-6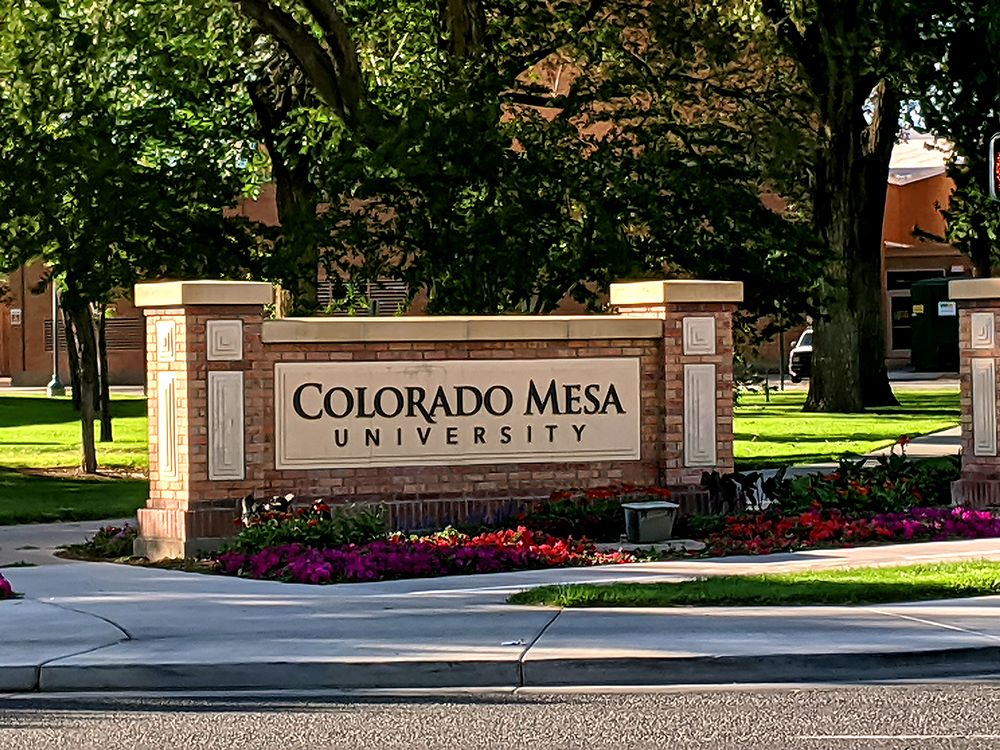 Why You'll Love the CMU area
Great Weather
Living in Grand Junction, you'll have plenty of excuses to spend time outside. A sunny day is the perfect time to tour Colorado Mesa University's beautiful campus!
Plenty to Do
Grab a bite to eat near campus, catch a Mavericks football game at Ralph Stocker Stadium, or tee off at Grand Junction's Lincoln Park Golf Course.
Convenience
Whether you're craving a skiing adventure or the adrenaline rush of college sports, living near CMU means you're close to all of Grand Junction's attractions.

Parks & Recreation
You don't have to travel far from home to enjoy an outdoor adventure. Challenge your friends to a round of golf at Lincoln Park, beat the summer heat at the Moyer Swimming Pool, explore the Western Colorado Botanical Gardens, or go biking along the Colorado River.

Local Attractions
Grand Junction's bustling downtown, the Mesa Mall, James M. Robb Colorado River State Park, numerous wineries, and the Colorado National Monument are close to Colorado Mesa University's campus.

Shopping & Dining
Want to expand your culinary palate or discover the latest fashions? Living near Colorado Mesa University, you're close to Grand Junction's best shopping destinations! Be sure to visit hotspots like Downtown Grand Junction and the Mesa Mall.

Festivals & Events
Between university events and city-wide festivals, you'll never run out of fun things to do near your home. There's always something happening in Downtown Grand Junction, Moss Performing Arts Center, Ralph Stocker Stadium, and University Center.
Contact Janell Gear
Your real estate inquiries are important to us, so please expect a prompt reply.